Training Course Material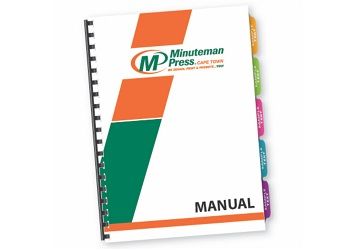 Be prepared for your next training session with training manuals that are clear and easy to use. Don't hand out single pieces of paper that can be lost or damaged. Produce a D-Ring binder that is durable, user-friendly, and spacious enough to accept additional pages. Tabs make it easy to find different sections, especially if the content is heavy with text. D-Ring binders come in a range of
sizes, so we can accommodate content of various thicknesses. 
If D-Ring binders are too big and bulky and you would like something a little easier to carry, we also produce coil-bound manuals. With coil-bound manuals we can still include tabs, but this style doesn't allow extra pages to be added later. 
Tabs are specially printed to suit your content. If it's a manual that is being used repeatedly, you can also choose to have the tabs matt or gloss laminated for extra durability.