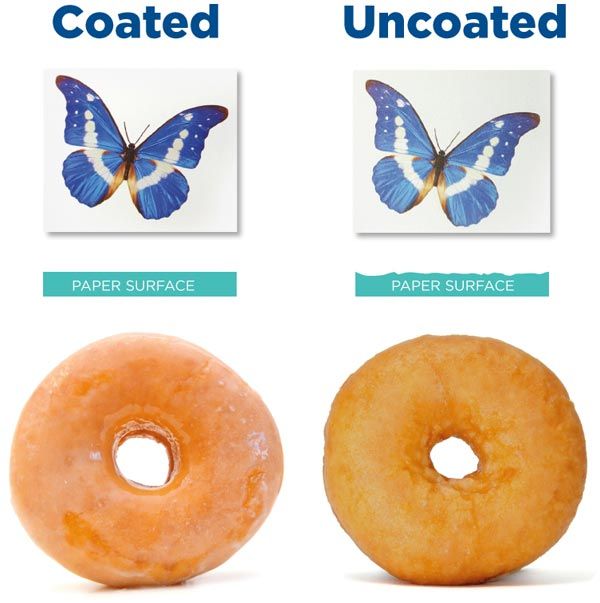 Often in layman terms matt paper is defined as uncoated, and coated art stock as gloss paper. Your printer will explain it is not that straight forward and such a simplistic differentiation can cause confusion.
Coated paper is paper that has been treated with an agent to improve brightness or printing properties. The coating process can vary from light to high coating, and to producing art papers. Likewise the coating finish can range from gloss and high gloss, to matt (or satin) finishes. The coating restricts the amount of ink that is absorbed by the paper and how the ink bleeds into the paper. Hence it also preferred for sharp and complex images as the ink stays on top of the paper and spread is minimised. Coated paper is more resistant to dirt, moisture and wear.These qualities makes coated paper the defacto standard for the printing of leaflets, brochures, magazines and booklets etc., and printing where large pictures, coverage and colour is dominant. Where the print is full colour (CMYK), the natural tendency will be to coated paper unless specified otherwise.The most popular coated paper is Art paper and can be separated as Matt Art and Gloss Art (the differences self explanatory).These are generic descriptions and most paper manufacturers will supply their versions of Art paper. The different print companies will stock their preference based on what works best on their print presses, but for the most part will be determined by price and availablity. As a print buyer, most often you will just specify Matt Art or Gloss Art depending on the preferrred finish. It is seldom that a specific brand of art paper in any given range will have a material affect on the print quality of finished product.
Whilst Coated paper can be gloss or matt, by default Uncoated paper used in printing would be matt. On the cheaper side there is bond paper we are all familiar with. 80gsm Bond is the standard work place paper stock that is easily photocopied. At the other end of the scale it makes up some of the finest paper stock and would be used by print designers for a more prestigious or elegant look on letterheads, envelopes, high quality brochures, invitations and packaging.The increasingly popular recycled paper and card options fall into this category. Uncoated papers will absorb inks more and make them spread or bleed, reducing the sharpness of the printed material and the colors will appear more dull.It lends itself to low coverage spot colour printing, and impactful finishing such as foiling and embossing.