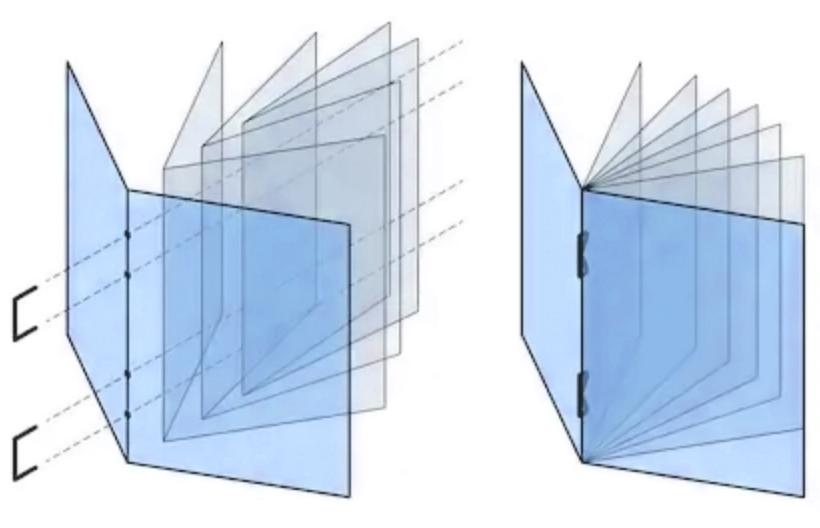 Understanding Saddle-Stitched Booklets
For booklets with up to 64 pages including the cover, we would normally suggest saddle stitch binding. Here folded sheets are gathered together one inside the other ("nested") and then stapled through the fold line with wire staples. The staples pass through the folded crease from the outside and are clinched between the centremost pages.
The nature of saddle stitch binding is that the number of content pages needs to be divisible by 4 otherwise one or more of the pages will be blank. Think about it - to make up a 16pp A4 booklet we'll take 4 x A3 sheets and fold them in half, each folded sheet comprising 4 pages. If the content is 19pp, the booklet will need to be made up as 20pp with the last page blank.
When setting up the artwork for print it is not a straight forward process of page 1 next to page 2, like you get from a Reader's Spread for electronic viewing.  If you physically take, say a 16pp brochure apart, page 2 is actually connected to page 15. It is through the binding that the pages will come out in order sequentially. Generally the artwork should be supplied for print as individual pages in a single PDF; your printer will have the software to correctly impose it ready for print.
Saddle-stitched booklets are mostly spec'd "XXpp plus Cover". This means the cover would be a different paper stock to the content, normally a thicker card. Often there is custom finishing on the cover such as lamination, foiling, embossing or spot UV varnish. Alternatively saddle-stitched booklets would be Self-Cover which means the front page is the same paper as the inside content pages and not separately differentiated.
The final finishing in the stitching process is what is referred to as a booklet trim. The right hand side of a portrait book is trimmed flush to neaten up the finish from the layered ends of the nested sheets. The extent of the trim is greater where it is bulkier from a lot of pages, and so the layout should avoid content too close the edge in case it is cut off.
Saddle-stitched booklets and brochures are used across a range of marketing and business stationery:
Product Brochures
Conference and Event Programmes
Company profiles
Business proposals
Learner books
Annual Reports
This binding is a quality finish that is appropriate for both short and long print runs.