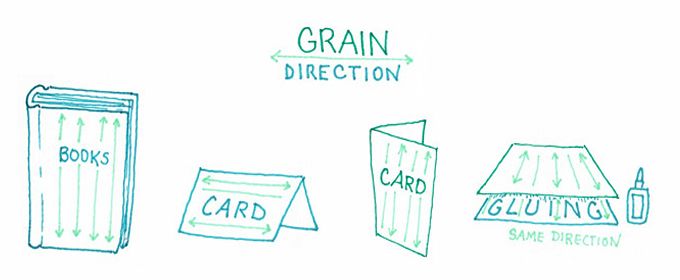 Understanding Paper Grain in the print Process
As paper moves forward along the forming wire on a papermaking machine, the fibres align themselves in a direction parallel to the direction of the forming wire.
When the paper is cut into flat sheets ("flats") that are purchased from the paper houses by print companies, they will be supplied as either long-grain or short-grain.
Long-grain:    The paper fibres run parallel with the sheet's longer dimension
Short-grain:    The paper fibres run parallel with the sheet's shorter dimension
With flat sheets the grain direction is identified by the second dimension in the paper description, eg this readily available card is supplied in various sizes:
Eltoro Board 160gsm 640x1020mm (a flat sheet supplied long-grain)
Eltoro Board 160gsm 860x610mm (a flat sheet supplied short-grain)
The print company will purchase the flat sheet size based on the grain required for the resultant cut press sheet, specific to a print job. In our business for the litho and digital printing our press sheets are mostly oversize A4 and oversize A3. In both print processes we most commonly use coated art paper.
Flat Sheet:
Matt Art 150gsm 640x915        -    Long-grain
Press Sheets:
Matt Art 150gsm +A3        -    Long-grain
Matt Art 150gsm +A4        -    Short-grain
Flat Sheet:
Matt Art 150gsm 455x640        -    Long-grain
Press Sheets:
Matt Art 150gsm +A3        -    Short-grain
Matt Art 150gsm +A4        -    Long-grain
In determining which grain we require for a print job, various factors are considered:
 whether the printing press will be gripping the press sheet on the long or short edge
whether the press is best suited to print with (feed is parallel) or against (feed is perpendicular to) the grain for the best results or to minimise curling
the extent and intricacy of the print finishing/folding for the job. Paper will tear and fold more easily with the grain and with greater difficulty against the grain (ie the paper grain should be parallel with the binding edge)
The above factors don't necessarily work in unison so which ones dominate will depend on what works best for the individual press in the environment in which it operates, the extent and the quality of finishing equipment to counter the effects of working against the grain, and the nature of the job itself. For example the grain is critical for PUR or Case bound books but not necessarily for Saddle-stitched books. Also in our print shop the paper thickness is a consideration. This forms part of the daily production planning in most print shops