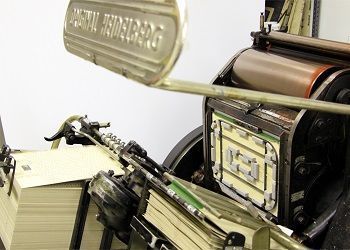 Where your printing needs to make a statement finishing to a custom shape will often give it additional impact. Examples in the retail front shop would be point-of-sale wobblers and swing tags. In the hospitality industry there are door hangers, bottle neck tags and coffee cup sleeves. Quite often business cards are customised to a non standard shape to pique the receiver's curiosity. Marketing departments have come up with endless other ideas and uses for custom shapes, cut-outs etc for their print collateral
In the print industry we die-cut the printed sheet to the required shape. It does involve an initial outlay for a die-block which comprises a steel blade positioned in a wooden block, and which can be re-used on future orders. We do the actual die-cutting on  a Heidelberg Platen. But this cost and the set-up time are not onerous which makes creating custom shapes on short print runs viable. Volume discounts most certainly apply but the entry level is low enough to contribute to meaningful campaigns for small business, start ups and niche marketing drives. We have found die-cut finishing often used with our digital print as well as the litho printing.
And of course besides marketing collateral, die-cut finishing is key with product packaging - boxes, backing and header cards etc. With the benefits of digital and litho print options under one roof and the facility to die-cut box templates etc., short run packaging is made possible at very cost effective rates. 
Here at Minuteman Press Cape Town we understand the importance of marketing collateral and product packaging to small and start up businesses and work closely with our customers to provide them the best solution at the right price.